Practical exercise 1: LET'S DRAW SCHEMATICALLY THE EVOLUTIONARY PATH OF OUR SUN ON THE HERTZSPRUNG-RUSSELL DIAGRAM FROM NOW TO THE END OF ITS LIFE
Aim
The aim is for students to make sense of the evolutionary meaning of the Herzsprung-Russell diagram.
Necessary materials

■ Image of the Hertzsprung-Russell diagram.
Instructions for the teacher
This exercise will show students how the Sun will evolve from the present moment to the moment when there is nothing to maintain the nuclear reactions in its core. In an additional file to the materials you will find the Hertzsprung-Russell diagram as a graphic file.
Detailed instructions for the teachers

On the Hertzsprung-Russell diagram, sketch the evolutionary path of the Sun from its current position to the end of its life.
[Answer: the picture below]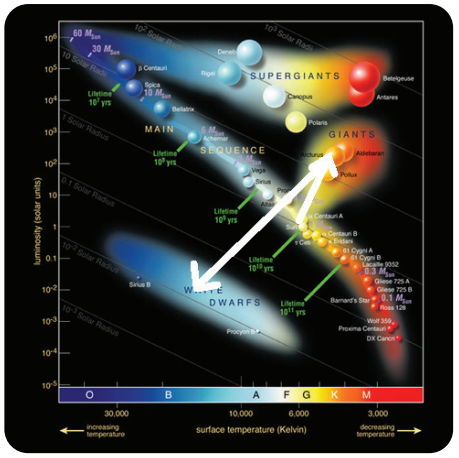 Additional questions:
Will the Sun become a neutron star at the end of its life? Why?
[Answer: The sun will not become a neutron star because there is not enough mass for it.]
When does a star end its life like a black hole?
[Answer: When, after the supernova stage, the stellar remnant has a mass greater than 3 solar masses, the gravitational collapse continues until it becomes a black hole].